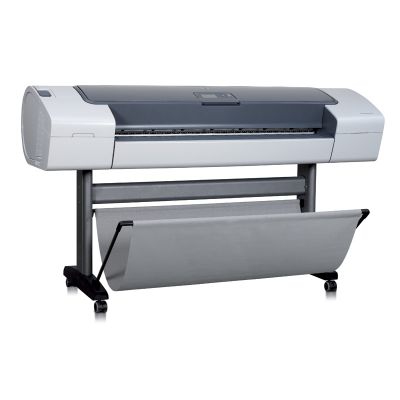 HP Designjet T610 44-in Printer stampante grandi formati
Modello: Designjet T610 44-in Printer
HP Designjet Designjet T610 44-in Printer, Ciano, Magenta, Giallo, 3 (matte black and yellow, magenta and cyan, photo black and gray), HP Web Jetadmin, HP Easy Print Care/Printer Utility, 600 x 600 DPI, Bond and coated paper (bond, coated, heavyweight coated, super heavyweight coated), photographic..., 1118 mm
Descrizione e caratteristiche
HP Designjet T610 44-in Printer, Designjet. Colori di stampa: Ciano, Magenta, Giallo, Testina di stampa: 3 (matte black and yellow, magenta and cyan, photo black and gray). Gestione stampanti: HP Web Jetadmin, HP Easy Print Care/Printer Utility, Qualità di stampa (colore, qualità normale): 600 x 600 DPI. Formati supportati: Bond and coated paper (bond, coated, heavyweight coated, super heavyweight coated), photographic..., Massima ampiezza supporti: 1118 mm, Spessore: > 0.8. Capacità di input standard: 1 fogli. Massima lunghezza rotolo: 91,4 m
Stampate con fiducia tutti i disegni tecnici e le immagini render in-house con una stampante HP Designjet che rende semplice la produttività. Progettata per la stampa personale, assicura risultati professionali, di elevata qualità con gli inchiostri HP Vivera e il set di 3 inchiostri neri. Migliore precisione del tratto a 0,1% e contrasti lievi da colori vividi a tonalità tenue con una vasta gamma di colori inclusi grigi realmente neutri. Velocità di stampa elevate e maggiore compatibilità consento di risparmiare tempo e stampare in sicurezza.
Specifiche tecniche
Altre caratteristiche
Precisione della linea: +/- 0.1%
Tipi di inchiostro compatibili: HP Vivera inks
Aggiornamenti driver: http://windowsupdate.microsoft.com (Windows Printer Drivers); http://welcome.hp.com/country/us/en/support.html?pageDisplay=drivers (All printer drivers)
Pannello di controllo: 240 x 160 pixels greyscale graphical display, 4 direct-access buttons and 7 navigation buttons, 2 bicolor lights (Ready, Processing, Attention, Error)
Quantità per pallett: 1 pezzo(i)
Caratteristiche tecniche: Attain exacting detail—with gray HP Vivera Ink and improved line accuracy to 0.1%, 0.067 mm minimum line width Posters, presentations make a powerful impression—create hard-to-achieve tones with the Three-black ink set. Count on consistent, professional prints with over 20 Original HP media substrates—designed with Vivera Inks. Handle prints right off the printer—fast-drying HP Vivera Inks produce smudge-resistant prints. Print CAD & GIS projects quickly and accurately—up to 35 seconds/A1 page—w
Pressione ad aria: 0,69 mmH2O
Driver LAN: Novell NetWare 3.x/4.x clients
Prodotti compatibili JetDirect: Sì
Ampiezza linea minima garantita: 0.002 in
Area non stampabile (foglio singolo): 0.2 x 0.67 x 0.2 x 0.2 in
Input massimo rullo: 1
Capacità di input
Capacità di input standard: 1 fogli
Carta
Margine inferiore: 16.75 mm
Margine di copia sinistra: 5 mm
Margine di copia destro: 5 mm
Margine di copa superiore: 5 mm
Margine superiore rillo: 5 mm
Diametro esterno rullo: 13,6 cm
Dimensioni supporti utilizzabili: A, B, C, D, E
Spessore supporti (per percorso carta): Tray 1: up to 31.5 mil
Area non stampabile (supporto a rullo): 0.2 x 0.2 x 0.2 x 0.2 in (borderless on photo papers)
Area non stampabile (fogli sistema metrico): 5 x 16.75 x 5 x 5
Area non stampabile (supporto a rullo): 5 mm
Gestione carta: Roll feed, sheet feed
Massima lunghezza di stampa: 91 m
Massima lunghezza fogli: 1676.4 mm
Dimensioni standard: All standard sizes larger than A4
Formati supportati: Bond and coated paper (bond, coated, heavyweight coated, super heavyweight coated), photographic paper (satin, gloss, semi-gloss, matte), technical paper (natural tracing, translucent bond, vellum), film (transparent, matte), self-adhesive and Vinyl (polypropylene, vinyl)
Numero di input carta: 1
Peso per carta: 60 to 328 g/m2
Peso supporti raccomandato: 60 to 328 g/m²
Massima ampiezza supporti: 1118 mm
Gestione supporti: Sheetfed, roll feed, automatic cutter
Spessore: > 0.8
Massima lunghezza etichetta: 1
Gestione carta standard/ingresso: Roll loading, single sheet rear tray
Gestione carta standard/uscita: Basket
Certificati di sicurezza
Certificazione Energy Star: Sì
Compatibilità elettromagnetica: EU (EMC Directive), USA (FCC Rules), Canada (DoC), Australia (ACA), New Zealand (MoC), China (CCC), and Japan (VCCI) compliance for Class B products, Korea (MIC) and Taiwan (BSMI) certified.
Sicurezza: USA and Canada (CSA certified), EU (LVD and EN60950-1 compliant), Russia (GOST), Singapore (PSB), China (CCC), Argentina (IRAM), Mexico (NYCE)
Certificazione: RoHS, WEEE
Collegamento in rete
Collegamento ethernet LAN: No
Web server incorporato: Sì
Condizioni ambientali
Intervallo di temperatura: -25 - 55 °C
Intervallo di temperatura di funzionamento raccomandato: 15 - 35 °C
Range di umidità di funzionamento: 20 - 80%
Intervallo temperatura di funzionamento: 5 - 40 °C
Intervallo temperatura di funzionamento: 41 - 104 °F
Umidità: 0 - 95%
Altitudine di funzionamento (imperiale): 9842 ft
Connettività
Quantità di porte USB 2.0 di Tipo-A: 1
Design
Display incorporato: Sì
Tipologia display: LCD
Dimensioni e peso
Dimensioni massime (L x P x A): 1770 x 732 x 1047 mm
Dimensioni (LxPxA): 1770 x 661 x 1047 mm
Peso: 86 kg
Dimensioni pallet (L x P x A): 1965 x 780 x 780 mm
Dimensioni imballo (LxPxA): 1965 x 780 x 780 mm
Nota su dimensioni (sistema imperiale): printer with stand
Dimensioni note (metrico): printer with stand
Dimensioni imballo (L x P x A): 1963,4 x 779,8 x 779,8 mm (77.3 x 30.7 x 30.7")
Peso incluso imballo: 271 lb
Dimensioni del pallet (w x d x h): 1963,4 x 779,8 x 779,8 mm (77.3 x 30.7 x 30.7")
Peso pallet: 142,9 kg (315 lb)
Dimensioni prodotto da aperto: 177 cm (69.7")
Dimensione: 177 cm (69.7")
Peso (imperiale): printer with stand 189 lb
Dimensioni (LxPxA): 111.76 cm
Peso del pallet: 143 kg
Emissione sonora
Emissioni acustiche: 6.9 B(A)
Pressione emissioni acustiche: 57 dB
Emissioni acustiche (standby): 4.4 B(A)
Formati media
Massima lunghezza rotolo: 91,4 m
Lunghezza massima di stampa (imperial): 300 ft; Operating system and application dependent
Massimo output con alimentazione a fogli: 66"
Dimensioni supporti standard (fogli, rulli): 8.5 to 44-in wide sheets, 11 to 44-in rolls
Gestione energetica
Alimentazione: Input voltage (autoranging): 100 to 240 VAC (+/- 10%), 50/60 Hz (+/- 3 Hz), 2 Amp max
Consumi: 200 W
Prestazione
Processore integrato: Intel Centrino mobile
Frequenza del processore: 600 MHz
RAM installata: 128 MB
RAM massima supportata: 128 GB
Dimensioni di buffer del drive: 9000 MB
Qualità di stampa
Minima ampiezza banda: 0,0423 mm
Qualità di stampa (nero, massima qualità): 2400 x 1200 DPI
Qualità di stampa (nero, bozza): 600 DPI
Qualità di stampa (nero, qualità normale): 600 DPI
Gestione stampanti: HP Web Jetadmin, HP Easy Print Care/Printer Utility
Qualità di stampa (colore, qualità normale): 600 x 600 DPI
Requisiti di sistema
Requisiti di sistema minimi per Macintosh: Mac OS X v10.2, Mac OS X v10.3, Mac OS X v10.4 or higher; PowerPC G3 or Intel Core Processor; 256 MB RAM; 1 GB available hard disk space
Requisiti di sistema minimi: Microsoft Windows 2000: Pentium III (733 MHz), 256 MB RAM, 2 GB available hard disk space; Microsoft Windows XP Home, XP Professional: Pentium IV (1 GHz), 512 MB RAM, 2 GB available hard disk space Microsoft Windows 2000: Pentium III (733 MHz), 512 MB RAM, 2 GB available hard disk space; Microsoft Windows XP Home, XP Professional: Pentium IV (1 GHz), 512 MB RAM, 2 GB available hard disk space Mac OS X v10.2, Mac OS X v10.3, Mac OS X v10.4 or higher; PowerPC G4, G5, or Intel Core Processor; 1 GB
Browser supportati: Microsoft Internet Explorer (5.0 and higher); Netscape (6.0.1 and higher), Safari for Mac OS (10.3 and higher), Mozilla (1.5 and higher)
Sistema operativo compatibile: Windows 2000, Windows XP Home, Windows XP Professional, Windows XP Professional x64, Windows Server 2003, Windows Vista Ready; Novell NetWare 5.x, 6.x; Mac OS X v 10.2 or higher; Citrix MetaFrame
Tecnologia di stampa
Bocchetta testina di stampa: 2112
Gestione colori: HP Color Center, HP Vivera inks, Closed-loop color system
Colori di stampa: Ciano, Magenta, Giallo
Testina di stampa: 3 (matte black and yellow, magenta and cyan, photo black and gray)
Velocità di stampa
Velocità di stampa a colori immagine (migliore, carta lucida): 2.8 m2/hr 30 ft2/hr
Velocità di stampa a colori immagine (bozza, carta patinata): 41 m2/hr 445 ft2/hr
Velocità di stampa a colori immagine (normale, carta patinata): 110 ft2/hr 10 m2/hr
Velocità di stampa a colori immagine (normale, carta lucida): 72 ft2/hr 6.7 m2/hr
Velocità di stampa: 70 D prints per hour
Velocità di stampa a colori disegno (bozza, carta comune A1): 52 A1 prints per hour
Tempo di stampa in bianco e nero disegno lineare (bozza, carta comune A1 sistema metrico): 35 sec/page
Tempo di stampa a colori disegno lineare (bozza, A1): 35 sec/page