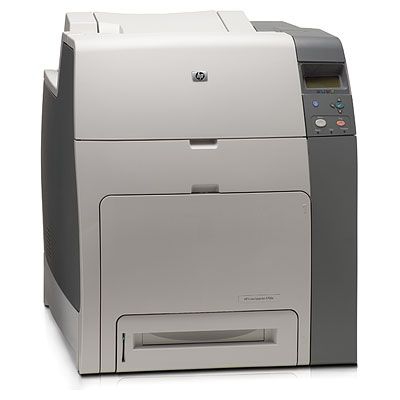 HP LaserJet Color 4700n Printer Colore 600 x 600 DPI A4
Modello: Color LaserJet 4700n Printer
HP LaserJet Color LaserJet 4700n Printer, Laser, Colore, 600 x 600 DPI, A4, 600 fogli, 30 ppm
Descrizione e caratteristiche
HP LaserJet Color LaserJet 4700n Printer. Tecnologia di stampa: Laser, Colore, Numero di cartucce di stampa: 4, Ciclo massimo di funzionamento: 100000 pagine per mese, Risoluzione massima: 600 x 600 DPI. Massimo formato carta serie ISO A: A4. Velocità di stampa (nero, qualità normale, A4/US Letter): 30 ppm. Capacità di input standard: 600 fogli. Capacità di output standard: 500 fogli. Rete pronta
Il modello di punta tra le stampanti HP Color LaserJet garantisce prestazioni affidabili con la migliore qualità di stampa, colori vivaci e velocità elevata, oltre alla compatibilità con un'ampia gamma di supporti di stampa. Progettata per incrementare la produttività dei gruppi di lavoro, con velocità di stampa fino a 30 ppm, stampa fronte/retro a velocità massima[p1] e capacità di alimentazione fino a 2.600 fogli[p2]. La tecnologia Imageret consente di creare materiale aziendale e di marketing di forte impatto, garantendo risultati di qualità professionale con colori attraenti, dettagli nitidi, immagini realistiche e una eccellente qualità fotografica.
Specifiche tecniche
Altre caratteristiche
Quantità per pallett: 1 pezzo(i)
Compatibilità elettromagnetica: EMC: CISPR 22: 1993/A1, A2; EN 55022: 1994/A1, A2 Class B; EN 61000-3-2: 2000; EN 61000-3-3: 1995/A1; EN 55024: 1998/A1, A2; FCC Title 47 CFR, Part 15 Class B/ICES-003, Issue 4/GB9254-1998, GB17625.1-1998; EMC Directive 89/336/EEC, the Low Voltage Directive 73/23/EEC and carries the CE-Marking accordingly
Vassoi carta standard: 2
Particolarità networking: HP Jetdirect Fast Ethernet embedded print server Fast Ethernet (standard); Gigabit, 802.11g wireless, Bluetooth wireless (optional)
Qualità di stampa (nero, massima qualità): 600 x 600 DPI
Tipo opzioni wireless: Optional, enabled with purchase of a hardware accessory
Capacità standard di output per trasparenti: 100 fogli
Aggiornamenti driver: Current HP printer drivers and software can be obtained from the HP Customer Care Web site: http:///support/clj4700.
Dimensione supporti fronte/retro: A4, B5, B5 (JIS)
Gestione supporti: Con inserimento di fogli
Tecnologia memoria: Memory Enhancement technology (MEt)
Pannello di controllo: 7 front-panel buttons (Menu, Select, Stop, Back/Exit, Help, Up arrow, Down arrow), 4-line control panel display, 3 LED status lights (Attention, Data, Ready), enhanced help with animated graphics
Massima lunghezza etichetta: 6
Dimensioni (vassoio 2): A4, A5, B5 (JIS), executive (JIS), 16K, 148 x 210 to 216 x 356 mm
Tipo supporto e capacità (vassoio 2): 500
Peso supporto (vassoio 2): 60 - 120 g/m2
Peso supporto (vassoio 3): 60 - 120 g/m2
Gestione carta opzionale/ingresso: Up to four optional 500-sheet paper trays, optional duplexer, optional stand
Gestione carta standard/ingresso: 100-sheet multipurpose tray, 500-sheet tray
Gestione carta standard/uscita: 500-sheet face-down output bin
Sicurezza: Argentina (TUV S Mark-Rs.92/98/Ds.1009/98), Australia (AS/NZ 3260), Canada (cUL-CAN/CSA C22.2 No.60950-1-03), China (GB4943), Czech Republic (CSN-IEC 60950-1, IEC 60825-1), Estonia (EEI-EN60950-1, IEC 60825-1), EU (CE Mark-Low Voltage Directive 73/23/EEC), Germany (TUV-EN60950-1, IEC 60825-1), Hungary (MEEI-IEC 60950-1, IEC 60825-1), Lithuania (LS-IEC 60950-1, IEC 60825-1), Mexico (NOM NYCE-NOM 019 SCFI), Russia (GOST-R50377), Slovakia (IEC 60950-1, IEC60825-1), Slovenia (SQI-IEC 60950-1, EN6082
Descrizione gestione di sicurezza: Management security: SNMP v3, SSL/TLS (HTTPS); optional network security: IPsec, 802.1x authentication; wireless network security: WPA (Wi-Fi Protected Access), WEP encryption (40/64- and 128-bit), 802.1x authentication (EAP-PEAP, LEAP, EAP-TTLS, EAP-TLS, EAP-MD5) with RADIUS servers
Tipo upgrade: Color tables, formatter firmware, software drivers
Software scaricabile: Download HP Universal Print Driver Series for Windows 1.0 from http:///go/mpd4w or http:///go/universal_driver
Sistema operativo compatibile: icrosoft Windows 2000, XP Home, XP Professional, XP Professional x64; Certified f/ Windows Vista; Windows Server 2003; Mac OS 9.x; Mac OS X v 10.1
Dimensioni imballo (L x P x A): 813,1 x 660,9 x 852,9 mm (32 x 26 x 33.6")
Dimensioni del pallet (w x d x h): 812,8 x 660,4 x 853,4 mm (32 x 26 x 33.6")
Peso pallet: 66,5 kg (146.5 lb)
Peso (imperiale): 105.1 lb
Emissioni di pressione acustica passante (attiva, stampa): 50 dB(A)
Rilegatura fronte/retro: Sì
Stampa della prima pagina in b/n (A4, pronta): As fast as 10
Stampa della prima pagina in b/n (lettera, pronta): As fast as 10
Stampa della prima pagina in b/n (lettera, inattiva): As fast as 16.5 (30 min, 1 hour, 5 hour)
Dimensioni supporti utilizzabili: Letter, legal, statement, executive, envelopes (No. 10, Monarch)
Altitudine di funzionamento (imperiale): 7500 ft
Peso incluso imballo: 146.5 lb
Velocità di stampa nero (migliore, lettera): < 31
Velocità di stampa a colori (migliore, lettera): < 31
Dimensione: 52,1 cm (20.5")
Emissioni acustiche (risparmio energetico): 7.7 B(A)
Emissioni di pressione acustica bystander (pronto): 31 dB(A)
Numero di cartoni per pallet: 5
Numero di livelli per pallet: 8
SureSupply, tipo di connessione: Direct and Network
SureSupply supportato: Sì
Grammatura supporti di stampa consigliata (duplex): 16 to 32 lb
Qualità di stampa (nero, qualità normale): 600 DPI
Intervallo di temperatura di funzionamento raccomandato: 17 - 25 °C
Compatibilità Mac: Sì
Porte I/O: 1x USB, 1x parallel, 2x EIO
Capacità di input buste (cassetto primario): 20 fogli
Media personalizzabili: Multipurpose tray: 76 x 127 to 216 x 356 mm; 500-sheet input trays: 148 x 210 to 216 x 356 mm Multipurpose tray: 3 x 5 to 8.5 x 14 in; 500-sheet input trays: 5.8 x 8.3 to 8.5 x 14 in
Dimensioni standard: 16K, Dpostcard (JIS)
Aggiornamento memoria: 0,544 GB
Margine di stampa inferiore (A4): 5 mm
Margine di stampa sinistro (A4): 5 mm
Margine di stampa destro (A4): 5 mm
Margine di stampa superiore (A4): 5 mm
Tipo di carattere: 93 internal TrueType fonts scalable in HP PCL and HP postscript level 3 emulation; additional font solutions available via Flash memory
Peso supporti raccomandato: Tray 1: 60 to 220; Tray 2, 3, 4, 5, 6: 60 to 120
Requisiti di sistema minimi: Microsoft Windows 7 ready. For more information go to http:///go/windows7. Some features may not be available. Windows Vista: 1 GHz processor, 512 MB RAM (check User's Guide for minimum hard drive space); Windows XP: 233 MHz processor, 64 MB RAM; Windows Server 2003 (standard edition): 550 MHz processor, 128 MB RAM; Windows 2000: 133 MHz processor, 64 MB RAM; 220 MB of available hard disk space (for all systems), CD-ROM drive or Internet connection, IEEE 1284-compliant bidirectional parallel por
Vassoio buste: No
Gestione stampanti: HP Embedded Web Server, HP Web Jetadmin, HP Easy Printer Care Software, HP LaserJet Utility
Emissioni acustiche: 6.7 B(A)
Pressione emissioni acustiche: 50 dB
Alimentazione: 100 - 127 VAC (+/- 10%), 50/60 Hz (+/-2 Hz); 220 - 240 VAC (+/-10%), 50/60 Hz (+/-2 Hz)
Qualità di stampa (colore, massima qualità): 600 DPI
Opzioni stampa fronte/retro: Automatic (optional)
Velocità di stampa (colore, qualità massima, A4): 30 ppm
Velocità di stampa (nero, qualità massima, A4): 30 ppm
Tecnologia di stampa del colore: HP ImageREt 3600
Gestione carta: 100-sheet multipurpose tray 1, 500-sheet tray 2, up to four optional 500-sheet paper trays, optional stand, 500 sheet face-down output bin, optional 750-sheet stapler/stacker
Capacità di input
Capacità di input standard: 600 fogli
Capacità massima di inserimento: 2600 fogli
Capacità di output
Capacità di output standard: 500 fogli
Massima capacità di stampa: 750 fogli
Carta
Massimo formato carta serie ISO A: A4
Tipologie di carta: Buste, Carta lucida, Etichette, Carta normale, Carta riciclata, Lucidi
Dimensioni ISO serie-A (A0...A9): A4,A5
Non-ISO print media sizes: Executive
Dimensioni JIS serie-B (B0...B9): B5
Dimensioni buste: B5,C5,DL
Peso supporti fronte/retro: 60 to 120 g/m²
Formati supportati: Multipurpose tray: paper (plain, glossy, colored, preprinted, letterhead, recycled, HP tough and high-gloss laser), envelopes, transparencies, labels, cardstock; 500-sheet input trays: paper (plain, glossy, colored, preprinted, letterhead, recycled, HP tough and high-gloss laser), transparencies, labels
Dimensioni (vassoio 1): A4, A5, B5 (JIS), executive (JIS), 16K, Dpostcard (JIS), envelopes (DL, C5, B5), 76 x 127 to 216 x 356 mm
Peso supporto (vassoio 1): 60 - 220 g/m2
Certificati di sicurezza
Certificazione Energy Star: No
Collegamento in rete
Rete pronta: Sì
Protocolli di rete supportati (IPv4): TCP/IP (IP Direct Mode; may require software from the NOS vendor or third-party vendor: LPD, FTP, IPP), IPX/SPX, DLC/LLC, AppleTalk, Auto-IP, Apple Rendezvous-compatible, NDS, Bindery, NCP, Telnet, SLP, IGMP, BOOTP/DHCP, WINS, SNMP v 1, 2c and 3, HTTP (with standard HP Jetdirect Embedded Fast Ethernet Print Server)
Condizioni ambientali
Intervallo temperatura di funzionamento: 10 - 30 °C
Intervallo di temperatura: 0 - 35 °C
Range di umidità di funzionamento: 10 - 80%
Umidità: 10 - 85%
Intervallo temperatura di funzionamento: 62,6 - 77 °F
Dimensioni e peso
Dimensioni massime (L x P x A): 521 x 950 x 582 mm
Dimensioni pallet (L x P x A): 813 x 661 x 853 mm
Peso: 47,9 kg
Dimensioni (LxPxA): 521 x 598 x 582 mm
Peso del pallet: 66,5 kg
Dimensioni imballo (LxPxA): 813 x 661 x 853 mm
Gestione energetica
Consumi: 567 W
Consumi (modalità risparmio energetico): 17 W
Consumi (modalità spento): 0,3 W
Memoria
RAM massima supportata: 512 MB
RAM installata: 160 MB
Capacità hard disk: Opzionale
Processore
Processore integrato: Sì
Modello del processore: MIPS RISC
Frequenza del processore: 533 MHz
Requisiti di sistema
Requisiti di sistema minimi per Macintosh: Mac OS X v 10.2.8, 10.3, 10.4, 10.5, 10.6; 160 MB available hard disk space; CD-ROM drive; USB port
Tecnologia di stampa
Colore: Sì
Risoluzione massima: 600 x 600 DPI
Ciclo massimo di funzionamento: 100000 pagine per mese
Stampa fronte/retro: No
Numero di cartucce di stampa: 4
Tecnologia di stampa: Laser
Velocità di stampa
Velocità di stampa (nero, qualità normale, A4/US Letter): 30 ppm
Velocità di stampa (colore, qualità normale, A4/US Letter): 30, 31
Tempo di riscaldamento: 126 s
Velocità della prima stampa (modalità bianco e nero): 10 s
Velocità della prima stampa (modalità a colori): 10 s